Vans Sneaker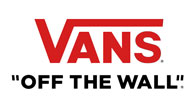 In 1966 the brothers Paul and Jim Van Doren and their business partner Gordon Lee and Serge Delia decided to start their own company in Anaheim, California to sell shoes. The "Van Doren Rubber Company", how the company was called, served twelve customers on the day of opening. The first model they offered called the Deck Shoes and is now known as Vans Authentic. The rugged sole of the Deck Shoes made them perfect for skateboarding. With the release of the Vans #95, now known as Vans Era, the shoes became the shoe of choice for the skateboarders. One year later, the Vans Old Skool was introduced, and with it the "jazz stripe". The "jazz stripe" is now one of the most recognizable sign for Vans shoes besides the waffle sole. 1978 Vans released its second shoe with the "jazz stripe", the Vans Sk8-Hi. This high cut sneaker gives you a better stand while jumping and landing. Meanwhile Vans became one of the most popular sneaker brands and with their collaborations with Supreme, Peanuts, Toy Story or Thrasher they have a wide audience for their products. We are looking forward for upcoming releases.
---
Our favourites Vans Sneakers
There are no products matching the selection.